Plastic fitting when jumping
"Both the trot and the canter go more through the body with the Goodsmith synthetic horseshoe. Daria's movements are expansive and beautifully fluid. Also the stepping down before the last jump seems much more powerful."
Hello dear ones,
here on the blog there is already a detailed report from our Goodsmith test phase. We've been riding the Goodsmith since August 2018, so it's time for another field report, an update, so to speak. A little about us for those who don't know us: I'm Diana, 36 years old, and have been riding since I was three years old and the horse virus has me firmly in its grip today. My first own horse was a Bavarian Warmblood mare that I got when I was 14. I was able to experience so much with her. Unfortunately she said goodbye to us too soon. Daria S is my Holsteiner mare born in 2011 and my second own horse. She moved in with me at the tender age of one year and I trained her myself. Daria is a showjumper through and through with incredible potential. I, too, have always been at home in the jumping saddle, so we both definitely agree on this point. We are constantly developing and were able to ride the LK3 together this year. Daria is currently jumping up to M**, by 2021 at the latest the bar will be at S level, which makes me incredibly proud. Despite our enthusiasm for jumping, I make our daily training very diverse. Dressage work (Daria is currently trained at L-level) is just as much a part of the regular program as the lunge or horse rides together. During the winter Daria sleeps in her straw box at night, but spends the days outside in the fresh air. In summer she enjoys her free time 24/7 on huge hillside paddocks. Both herd life and a large amount of freedom and movement are very important to me for my sport horse. Daria is not only very robust, but also has a healthy self-confidence and that definitely benefits us in sport.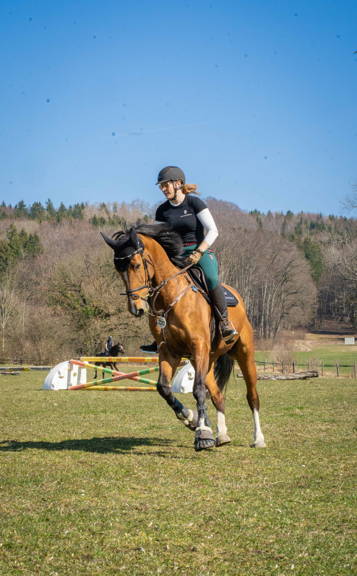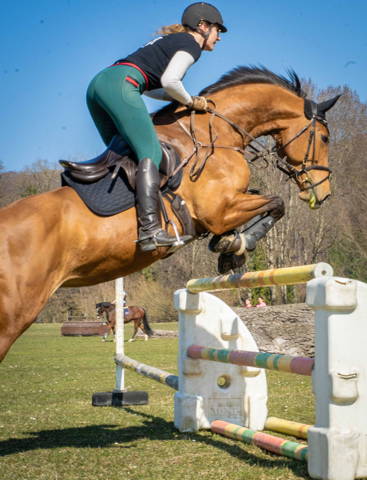 Daria's hoof condition I would describe as very good. She gets along wonderfully barefoot and has a good horn quality. Now and then the hooves get a bit dry, but I can handle that quite well. Her heels aren't too much of a hindrance either. We decided on the Goodsmith at the time because I was looking for a hoof protector that would support Daria in training or at tournaments. It ran on iron fittings until three years ago. But she couldn't cope with the shoe in the summers on the hillside paddock, because one or the other shoe was torn out here and of course damaged the hoof wall. The switch to barefoot was supposed to be an attempt that was very successful. Before the Goodsmith, we even went barefoot in our training sessions and tournaments – in an M-jumping you are more like an exotic animal. The Velcro version of the Goodsmith was the perfect solution for me, because Daria was able to go barefoot on the pasture and in sports with hoof protection to run. However, I have to admit that the Velcro pads of the slope coupling fell victim much faster than I had planned. Due to the high stress, sometimes a lot of moisture and mud, the Velcro pads rarely stayed on the hoof for more than two to three weeks.So I changed them twice as often as I normally would. Goodsmith developed the Klett-XT variant of the Goodsmith for precisely such problem or open stable cases. No Velcro pad should be able to come loose here, no matter how wet the area around the hooves is. I will now test this variant extensively and will be happy to report back.
For the coming tournament season, however, we will switch to the Goodsmith Perma-XT variant. I made this decision together with the Goodsmith team, because I was told openly and honestly that the Velcro version of the Goodsmith simply would no longer be able to reliably cope with the demands that were to come. In M**- and in the future also S-jumping, we are faced with courses where high shearing forces will act on the hoof protection. In addition, we will sometimes need studs that put additional stress on the hoof protection. I think that we are simply better and more reliable with the Perma-XT variant.
The velcro version carried us through various courses this year and mostly met my expectations. There were jumps after which Daria could only get up with a Goodsmith, but here too the stress on the Velcro was very high. The positive thing about such a flying Goodsmith is that nothing happens. I was still able to complete my rounds, the hoof was not damaged in any way and, in the best case scenario, I could simply put the protection back on - that also has to be said. A few words about Daria's gait with the Goodsmith: Both the trot and the canter walk more through the body with the Goodsmith plastic fitting. Daria's movements are expansive and beautifully fluid. Also the stepping down before the last jump seems much more powerful. My conclusion up to this point: the constant improvement of the products and the introduction of the XT product line eliminated teething troubles that we experienced during the test phase.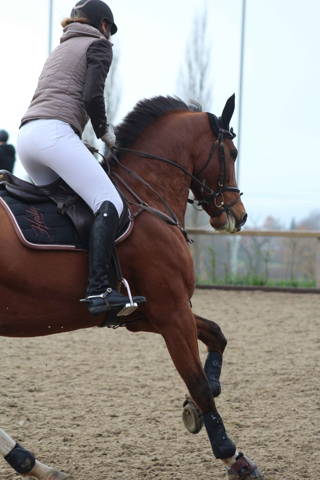 The Goodsmith is definitely a strong alternative to other hoof protection products on the market. Before deciding on the Goodsmith, you should think about which variant is right for you and your horse. Velcro is a great alternative to hoof shoes, it reliably withstands heavy use in everyday life, but it also requires the specified care and cleaning. Perma is an ideal alternative to rigid fittings - holds reliably - does not require any special care and is still just as individual and flexible as the Velcro version. After a successful season with Goodsmith-Klett, I'm looking forward to an exciting tournament season with Goodsmith-Perma.
.
---