Adhesive fittings in comparison
"I was very skeptical at the beginning because he had eliminated the other adhesive horseshoes within a few days and that also with loss of horn..."
Hello,
I'm Dani and I'm a veterinary assistant. I have two horses, one for 24 years and one for 5 years. Both have been with me since birth.
Tequila, my Bavarian Warmblood, is the 5-year-old gelding that I am currently training to be a reliable leisure partner. We do recreational rides, ground work, serenity and go off-road.
He's in the box at night, in the paddock during the day. Every horse gets its rest periods, its regular feed, lots of fresh air and the opportunity to exercise as much as it likes every day.
The hoof situation is basically not bad, since it has qualitative horn, which is also relatively hard. He is very sensitive off-road and has already had lameness due to bruised soles, bruises or bleeding.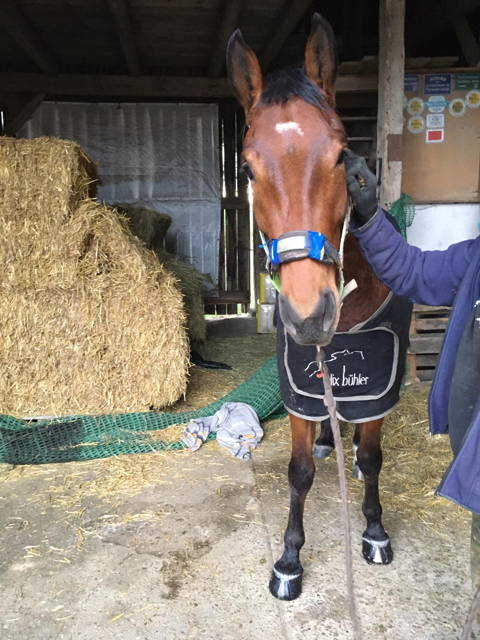 I've tried other plastic fittings and glue fittings before Goodsmith. Unfortunately, they only lasted between 2 days and 2 weeks, which is why I bought hoof boots. But I couldn't use them 24/7.
We travel a lot off-road, on tar roads, in the sand and in demanding terrain.
Since the Goodsmith, we have had no more lameness, no more bleeding when trimming the hoof. And the whole thing holds up well despite the mud!
CONCLUSION: Ich was very skeptical at the beginning because he had eliminated the other adhesive horseshoes within a few days and that also with loss of horn... despite large bell boots and also prior good processing and preparation of the gluing and co. I have therefore switched to hoof shoes, I am not lazy but since the horses are in the paddock every day it is also the case that he has muddy dirty hooves/legs before riding and these are not always "pore-deep "are clean before putting on the shoes... which after a short time also led to him having a small chafing spot after riding... I certainly don't want that, bruises were still visible because he wasn't permanently on his hoof (I don't want to and I don't think so, except for therapy purposes...shoes were out of the question for fear that he would also kick them off after a short time and I would find iron + nails on the paddock or in his/another hoof the horses again rfinde ... then let Lena persuade me to test an adhesive fitting again... we just decided on the Goodsmith and what can I say xD I wrote to her every evening that the "iron" was still on it. He still wears hoof bells, I wash off the shoe in the evening after the paddock and have "resealed" 2-3 times in the 6 to 8 weeks, i.e. washed in the evening, let it dry and reapplied in the morning with glue... has always held up well, no lameness, no bleeding, no thrush under the iron nothing! We already had cleats in there for better grip... we were able to use one set a second time, so all in all a good undertaking for my boy....if there is something in neon green (or red or orange xD ) that would of course be awesome xD
---