"Twix got used to the hoof protection after the first test ride and walked with it without any problems. It quickly became apparent that he stumbled a lot less and stepped forward with more momentum."
Hello dear Goodsmith team,
I finally manage to write a report on your hoof protection. We've been Goodsmith users for almost 4 months now, so it's worth drawing a conclusion. We, that's my horse Twix and me. Twix is ​​an eight-year-old Quarter Horse Thoroughbred gelding that I got to know just a few weeks after he was born. It was love at first sight, but it still took 7 years until I could finally call him "my" horse in November 2018. I'm 21 now, I'm studying to become a teacher on the beautiful Baltic Sea coast and I've been riding since I was 8 years old. I am a trained forest and meadow rider, my motto: If the worst comes to the worst, falling is everything. Twix broke his stylus in 2018, and there is also a slipped hip that has to be treated osteopathically again and again. Today I would assign us to the group of leisure riders, the focus is on gymnastic groundwork and dressage work. In summer he lives 24/7 on the pasture, in winter he goes into an 18sqm box at night. I would like to offer him the most species-appropriate husbandry possible and have only had good experiences with this system so far.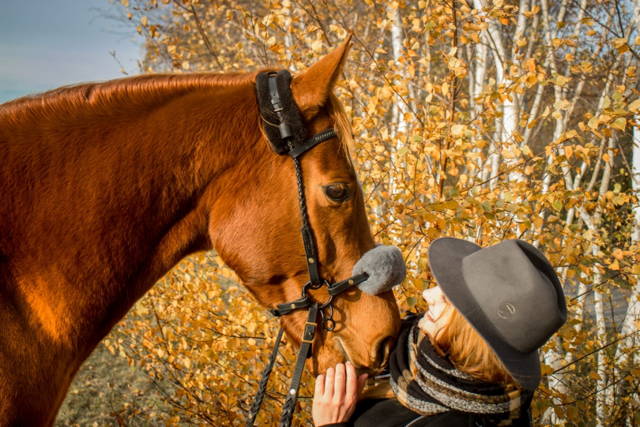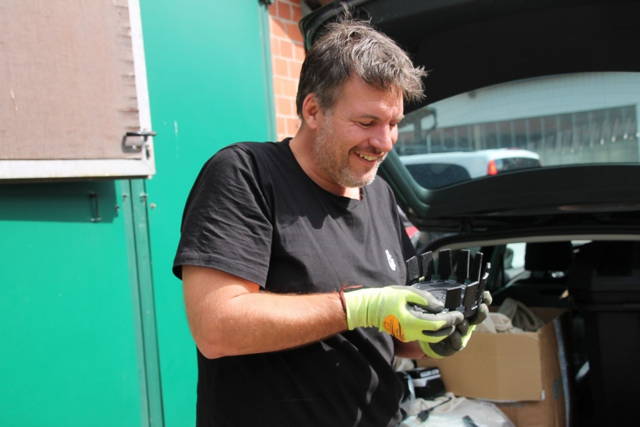 Twix' hooves are hard and durable, typical of Quarter Horses. They grow very quickly, we have a processing cycle of 4 weeks. Due to the proportion of thoroughbreds, however, he tends towards short and understated costumes. It runs smoothly on sand and forest soil, but is a bit sensitive on asphalt and gravel. Nevertheless, he has always walked barefoot. I became aware of Goodsmith through Instagram and applied for a competition. My blacksmith is absolutely open to new ideas, she was very interested in them. The idea was to make it easier for Twix to walk on hard ground, depending on the situation, with the Velcro plastic fitting. Besides, I was hoping that the reduced abrasion would relieve his heels and allow them to grow back better.
In August Thorsten made the first adjustment, after almost 2 hours the velcro version was on the hoof. Twix got used to the hoof protection after the first test ride and walked with it without any problems. It quickly became apparent that he stumbled a lot less and stepped forward with more momentum. His steps became less stumpy and more expansive, especially on natural ground in the forest or in fields. The Velcro plastic fitting protected him well from pain from stones or branches, he could walk more easily than without protection. We tested the Goodsmith on indoor, riding arena, forest and asphalt surfaces, from a 30-minute walk to a 3-hour ride through the Baltic Sea landscape, everything was there. Even in everyday life, Twix had no problems with the Velcro pads on his hooves, they didn't affect his hoof quality. My concern that the glue could attack his hoof wall was not confirmed.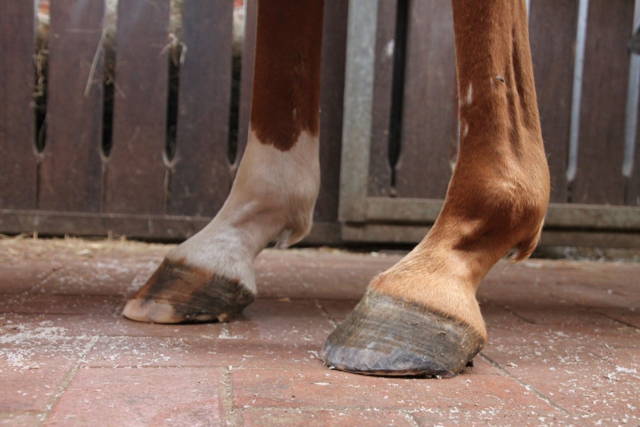 However, our open stable floor posed a major challenge for the protective covers and Velcro pads.The deep mud had such a strong suction effect on the protective covers that they didn't stay on the hoof for long. After consulting the team, I adjusted the covers better and optimized the attachment, which helped. But since we now also live directly in the city and ride almost continuously on asphalt, the idea came up to switch from the Velcro system to the perma system. Within a few days we had the new perma flaps and my farrier was able to attach them to the base plate without any problems. This variant does not pose any restrictions for Twix either, he happily bucks and rages over the paddock. Our routine has hardly changed or lengthened either. Daily hosing down of the hooves including the adhesive shoe is enough to keep both clean and well-groomed. In the meantime we have done two Velcro treatments and switched to Perma. The base plate has been in use since August and has hardly lost any volume. You can see the abrasion from the asphalt, but after 4 months it still has no effect on the thickness of the plate.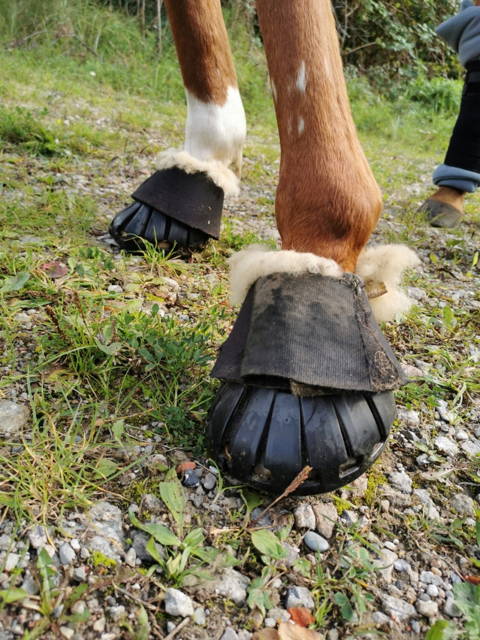 My conclusion: The Goodsmith works, it offers good protection against uneven ground and ensures sure-footedness and loose aisles. Twix got along very well with the hoof protection, we are definitely enthusiastic about the function. The attachment is not easy and requires practice. The durability was not as good as we expected. The very wet and deep ground with us put the Velcro version to a hard test, Twix' strong hoof growth makes the Perma version a very expensive pleasure for a student like me. Also, since I switched training to light winter work (we only have a small riding arena, which is now often flooded) I decided to let Twix run unshod in the winter. For the summer and the riding season, the Velcro version is back on the agenda. I would like to thank the whole Goodsmith team, especially Narin and Thorsten. I can contact her with questions at any time and get help as quickly as possible, even at 9 p.m. in the evening. Not every company can claim that, so kudos for that! Improving hoof protection is always in the foreground, my ideas and suggestions were accepted with open arms. Happy to be a part of the #teamgoodsmith! Warm greetings from the stormy Baltic Sea and a Merry Christmas from the Baltic Sea sweethearts Twix and Nele
Instagram @wildheartedboy
.
---