Plastic shoe for problem hooves
"Goodsmith led to significantly better hoof growth after just one application"
Hello dear ones,
I'm Lisa, I'm 28 years old and a trained social security clerk and a graduate in business administration; part-time hoof carer (bmg – LTZ Michael Zanger).
August; Icelandic horse *2009, gelding, is ridden well in leisure time, natural tölter, enjoys gymnastics and is talented in the square (also in the basic gaits). Not used in sports due to previous illnesses. During the day he lives in a group of three (stallion, gelding and himself), at night in a single box; Grazing by the hour or at night from April to November, depending on the weather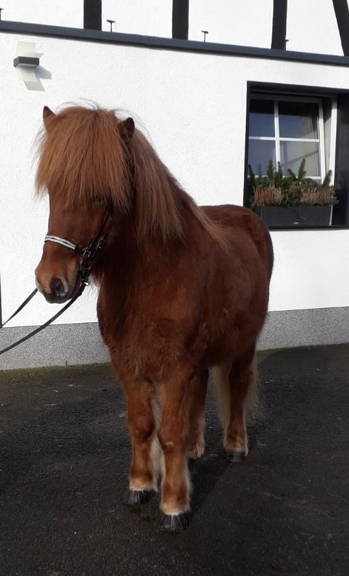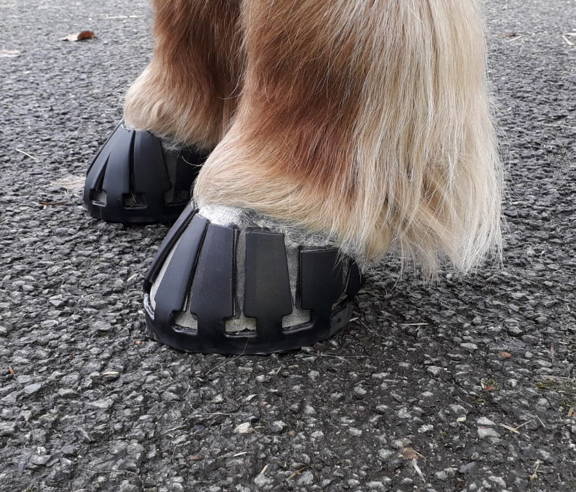 Hoof situation: heels VR pushed under, diagonal hoof VR, hardly any sole curvature on all four hooves, very soft horn - this often causes problems with stones in the white line); not sensitive, but always ran off-road with Renegades; In the meantime covered with different types of plastic horseshoes, but he lost this on at least one hoof at each interval within a maximum of 2 weeks; formerly shod with steel, but often with hoof ulcers and incorrect loading; The incorrect loading and the diagonal hoof led to a heel collapse and extremely steep medial wall course VR and very flat wall laterally as well as pushed up medial ball of the foot; Rear no problem.
Águst needs a processing interval of max. 6 weeks at the front, the back could also be a little longer, but of course it is done. After just one use, the Goodsmith led to significantly better growth of the bearing edge, since abrasion was completely prevented and makes a lasting contribution to maintaining the health of the white line, especially on the front hooves. Holds up great, doesn't kick, no longer stumbles - advantages over a temporarily differently glued plastic shoe and the steel shoe. Processing Goodsmith is definitely worth trying. If you are a skilled craftsman and can process Goodsmith yourself or if you have a great farrier, you have to try it. The tongue arrangement allows the Goodsmith to be used for the most modest hoof situations (temporary or permanent) and brings comfort to both horse and rider.
---