Adhesive fitting in Icelanders
"The walking behavior of both horses has also improved greatly. Both run smoothly and diligently forward. The difference to just walking barefoot is definitely the safe footing on any surface and the vigor and momentum with which both go forward."
Hello everyone,
My name is Magdalena Müller, I am 25 years old and even as a little girl I only had eyes for horses. I started vaulting at the age of nine to prepare for horseback riding. At the age of ten I switched to real riding. Just one year later I came to my favorite breed - the Icelanders - since then I've been riding Icelandic. When I was 13, I got my first horse, Helfari, who is still one of my little rascals today and is now a proud 18 years old. I started with him in tournaments and together we were able to win some prizes in the youth and junior classes. During the Abitur period, the tournament riding was postponed, so he went directly to Iceland for a year. In Iceland I was able to continue my education in Icelandic sport and this is where I got my two Goodsmith horses, Fanndis (9 years old) and Hlynur (11 years old), who have been with me in Germany for 5 years now. My five-gaited gelding Hlynur fra Hala is well trained in dressage and is also available for small jumps. Fanndis fra Hala is also a five-gaiter. When she came to Germany, she first had a baby break and was then gently trained. She has been in training for about a year now. With these two horses I do a lot of orienteering and trail rides and also a lot in dressage and gait training on various courses. In addition, we were also represented at smaller leisure tournaments this year and are currently slowly starting to break in. All in all, we work in a very versatile way - there is almost nothing that I cannot do with my horses. Hence the test: adhesive fitting for Icelanders. Can this work?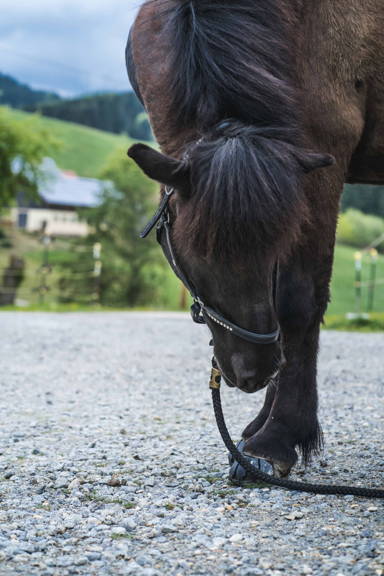 We have been using the Goodsmith since October 2018. Until June 2019, both horses were kept in a permanent open stable with a fixed paddock. My little four-year-old loved to run around here at high speed. Since June, my gang has been outside during the day (either on the grass or paddock) and then in the box at night. Now in autumn a little endurance test was called for here, because the paddocks are partly muddy. Nevertheless, we had no problems and were always able to clean the Velcro easily with water. I changed the way my little rascals were kept because I wanted to do more riding again. My horses are much more relaxed since they can nibble on their hay nets at night and only stand in a group during the day. Even before the Goodsmith, the hoof condition of both horses was good. Hlynur has a slight toe misalignment on the fore and hindquarters, but the angulation is good. Its problem is light sensitivity on hard floors and slightly porous horn. Fanndi's hooves are slightly toe-wide at the front and rather flat with little heel. However, she is hardly sensitive. Before Hlynur got the Goodsmith he wore irons for about 1 ½ years. During this time, however, I realized that I was not making any progress in training, because he was always slightly cautious on the forehand.
This meant that he ran very tightly and we had big problems in the trot and tölt. After various changes to the shoe, including trying to get by with leather plates, I decided to take off the shoes over the winter to give the hooves a rest to treat. From that point on, the problems with riding became less. Hlynur was able to step forward much more freely and courageously from the shoulder and both trot and canter were quickly no longer a problem. The tölt also got better and better and the hoof brittleness decreased. Since he continued to run sensitively on hard floors, a solution had to be found here. We initially opted for Scoot Boots. The shoes fit very well, but the accumulation of dirt and moisture in the shoe was a problem on longer rides. Fanndis never wore irons and I never wanted to shoe them. She also got scoot boots for the terrain and got along well.
Since I am a trained hoof care professional myself, I continue my education regularly and deal with new products on the hoof protection market. This is how I joined Goodsmith in October 2018. I attended a workshop, got certified, and have been offering the Goodsmith as a service ever since. So I adapted the Goodsmith to my horses myself. I first became aware of the product through "Die Höhle der Löwen" and found the system exciting from the start. Hlynur has been wearing his Goodsmith on all four hooves since October 2018. I trim his hooves every six weeks. Of course I always reattach the Velcro pads, I only had to replace the Velcro straps twice so far. Fanndis has had her Goodsmith since November 2018. Her hooves are also trimmed every six weeks. I've already had to change the Velcro collars on her three times. Now, after a good year, the front base plates on both horses have to be replaced. The rear plates will last another one or two processing intervals. I chose the Goodsmith because, unlike the hoof boot, it has no fixation on the hairy part of the horse's leg and is therefore approved for Icelandic horse sport. The fixation, which does not go beyond the horn capsule, also contributed to improved running behavior in my horses. In addition, I don't have to worry about my horses chafing in the ball area on longer trail rides. Personally, I use the Goodsmith in a variety of ways, for example off-road to protect the horses from stony surfaces on long rides, but also in daily training to counteract excessive horn abrasion or at courses and tournaments to achieve an improved gait.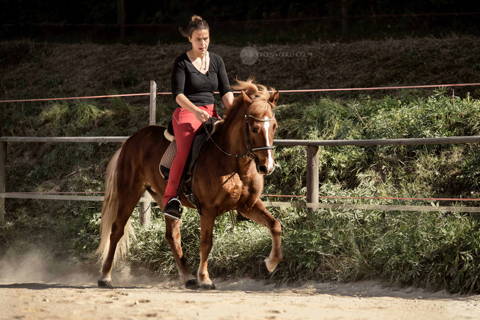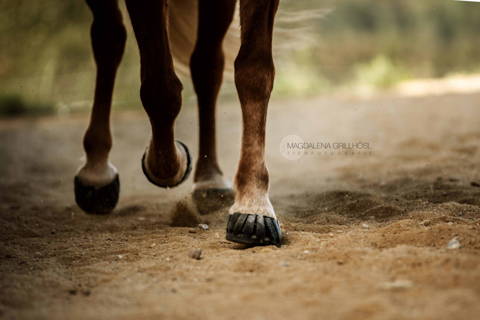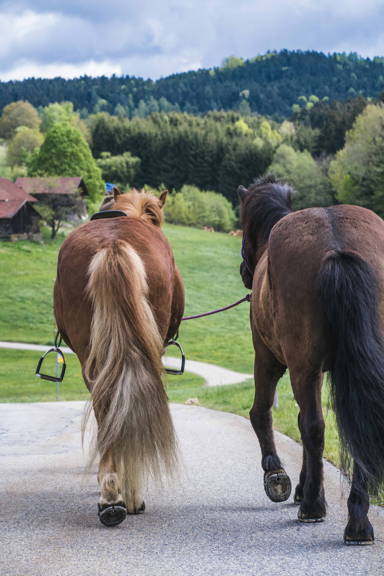 At Hlynur I last tested the Perma variant of the Goodsmith, because there were still some big rides and tournaments on the schedule. At the same time, Fanndis wore her Velcro version of her Goodsmith 24/7. Both horses ran under the same stress and both system variants held up perfectly. Hlynur's hoof horn has recovered well over time and is no longer as brittle. The walking behavior of both horses has also improved significantly. Both run smoothly and diligently forward. The difference to just walking barefoot is definitely the safe footing on any surface and the vigor and momentum with which both go forward.
To sum up, we've been touring a lot with the Goodsmith this year. We have attended various courses.Hlynur was with me in Berlin in August for the World Championships for Icelandic Horses and ran there through the middle of the city on various surfaces without any problems. We did a few orientation rides. Last but not least, we completed our last tournament for 2019 at the beginning of October and presented ourselves excellently. Hlynur won the tölt in harmony test and Fanndis was able to take 3rd place. In the skill test (including a small jump) we again took 1st and 3rd place in the same constellation. Now we are slowly going into the winter break, but we will definitely ride a lot during this time and training will not be neglected either. My conclusion about the Goodsmith so far: I am enthusiastic about the product and very satisfied to have found this solution for my horses. They both run great and I don't have to feel bad about using them to the full in training every day. We also had small problems here and there, but they were always solved quickly. The velcro on the hoof, for example, was often stuck with mud in the autumn, but everything was super clean under the water hose and with a wire brush. In the case of the perma variant, two tabs have come loose from the hoof. I was able to reattach it within a few seconds with the XT-40 glue that Goodsmith offers as a small "first aid solution". Even if a Velcro pad is worn off while playing, you can really help yourself quickly and there is no loss of horses. My customer horses also run flawlessly on their Goodsmith and the owners are satisfied. For example, I like to use the Goodsmith to switch from shoes to barefoot and I can report very positively here. But then another time. I would like to write another report from a professional point of view.
.
---