Adhesive fitting in the open stable
"Lady has only been with me in the open stable since April 2019 and had very brittle horn walls, in which the nails of the horseshoes could hardly hold. Without any protection, she walked incredibly sensitively and so I had to find an alternative for her."
Hello dear ones,
My name is Patrick, I'm 29 years old and have had the horse virus since I was 6 years old. I run my own little horse paradise right next to the house. There are currently six horses in my care here. I have chosen to be kept in an open stable because I am convinced that horses should always be able to move, whether they prefer to stand on the hay for hours or doze in the sun is up to them, but the possibility of maximum realizable movement should be possible , in my opinion, be given.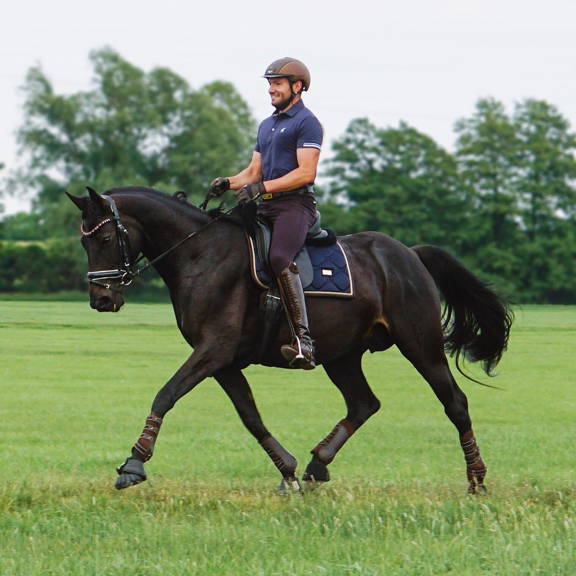 The warmblood mare Lady, born in 2010, is the only "staller" on my small facility. However, I train them and present them at tournaments. My Ipanema (Ipa for short), also born in 2010, is the lady on whose crap the whole "horse-in-yourself thing" grew. Both mares are mainly moved by me and have been wearing the Goodsmith since May 2019. My chicken pile also includes Emmi M, who is currently in happy expectation and who is also a patient teacher for the lady owners, and my three self-bred young stars of tomorrow. Coco, Ipa's first foal, will be three years old in 2020. Slowly but surely I'm getting used to everything that has to do with riding. Moni (Moon Shadow) and Missy (Mrs. Mercury) are half-sisters and the daughters of Ipa and Emmi - they were born with me this year and therefore also raised them themselves. I've already had a taste of tournament air with Lady and Ipa. We were at A-level in dressage and I went A-level with Lady this year. Since I haven't ridden in tournaments for years and neither of the horses in front of me have been able to get a taste of tournament air, I was very satisfied with the performance of my ladies. In the coming outdoor season we hope to be able to gather a little more routine.
Now let's get to the hooves: Lady has only been with me since April 2019 and had very brittle horn walls, in which the nails of the horseshoe could hardly hold. However, she was incredibly sensitive without any protection, so I had to find an alternative for her. With Ipa, my motivation for the Goodsmith was more that I am not a fan of shoes in general and wanted something more "flexible" under the foot, which made the difference Abrasion compensates for its toe-tight position and gives it more "hold". My goal is to encourage both horses more athletically and even if Ipa gets along very well barefoot, hoof protection, which does not restrict her, seemed appropriate with increasing stress.
I became aware of Goodsmith via Instagram and luckily I have an open-minded blacksmith who is open to innovations. The Goodsmith team came to our stables for the certification workshop and Lady and Ipa were also fitted with their first Goodsmiths at the same time.At first I decided on the Goodsmith in the velcro version. But I quickly realized that in my busy everyday life I tended to leave the temporary protection on the hoof permanently anyway. So for the second Goodsmith processing interval, I opted for the Perma variant.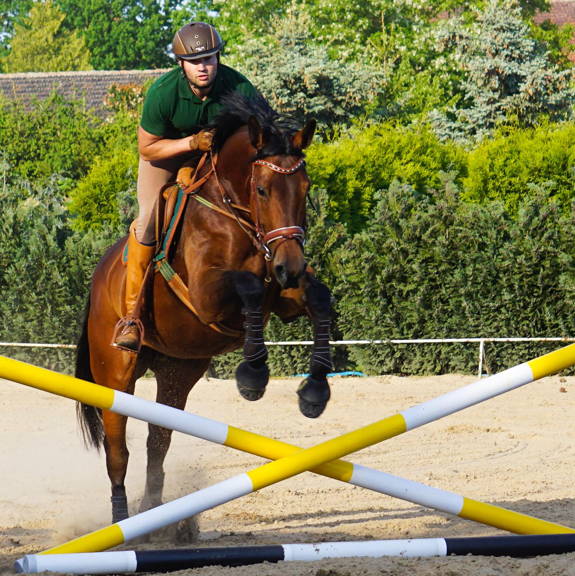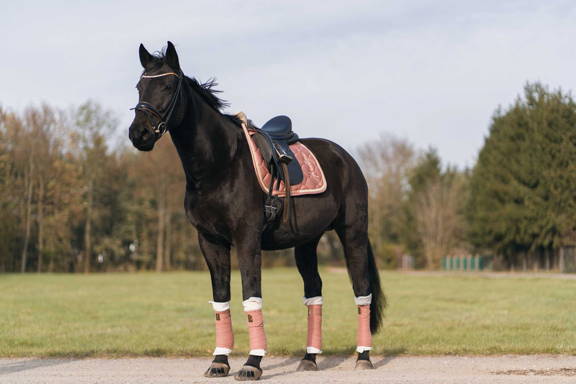 Meanwhile, my ladies have already completed 5 processing intervals. Since the two wear their Goodsmiths all the time, they also use them every day on the sand paddocks and out on the pastures in the summer. So far, however, I see no need to replace the base plates. The Goodsmith has already accompanied Lady and I at the tournament. In both dressage and jumping tests, we had no problems whatsoever with regard to durability and the most varied of surfaces did not pose a challenge.
Lady's hooves have recovered so well with the Goodsmith that we are currently taking a short break from barefoot to see whether the velcro version is an option again in the future and is sufficient. Personally, I think it's nice when the horses can regularly feel the ground under their feet and are still protected under stress. With Ipa, who is somewhat overbuilt due to her high percentage of blood, we were able to significantly improve the entire gait pattern thanks to the Goodsmith. So she will continue to wear the Perma variant for the time being. I would like to recommend the following to Goodsmith newcomers: the Goodsmith is definitely a good shoe or hoof shoe alternative, but the Velcro variant in particular needs appropriate care. If you do have a problem with hoof protection, then don't hesitate to contact the Goodsmith team. They help quickly and effectively because it is of course important to them that the system works. You can often help yourself very quickly with small tips and will not be slowed down in training.
.
---