Alternative hoof protection in dressage
"I also notice a big difference in dressage. Especially after Heli also had the Goodsmith on the back. She can sit down better, steps under more and walks more freely from the shoulder."
Hello everyone,
Before I share my experience report on the Goodsmith with you, I would like to briefly introduce myself and my horse. who are we? My name is Lara, I'm 23 years old and equestrianism and my love of horses have been with me since I was little. The Trakehner mare Herzenslicht (Heli for short) has been part of the family for almost 5 years now. At first I was really unsure whether choosing a young horse was such a good decision. Today I can only say: I have no regrets. Training a young horse is just incredibly fun and in my opinion there is nothing better than discovering and learning things together. We are mainly involved in dressage and are at a good A/L level there. But since varied training is extremely important to me, we often go off-road, do ground work or jumping. A species-appropriate attitude is the be-all and end-all for me. That's why Heli is on the mare's meadow from morning to night. Can romp, play and eat with her girls all day long. In the evening I bring her in and she can rest in her box.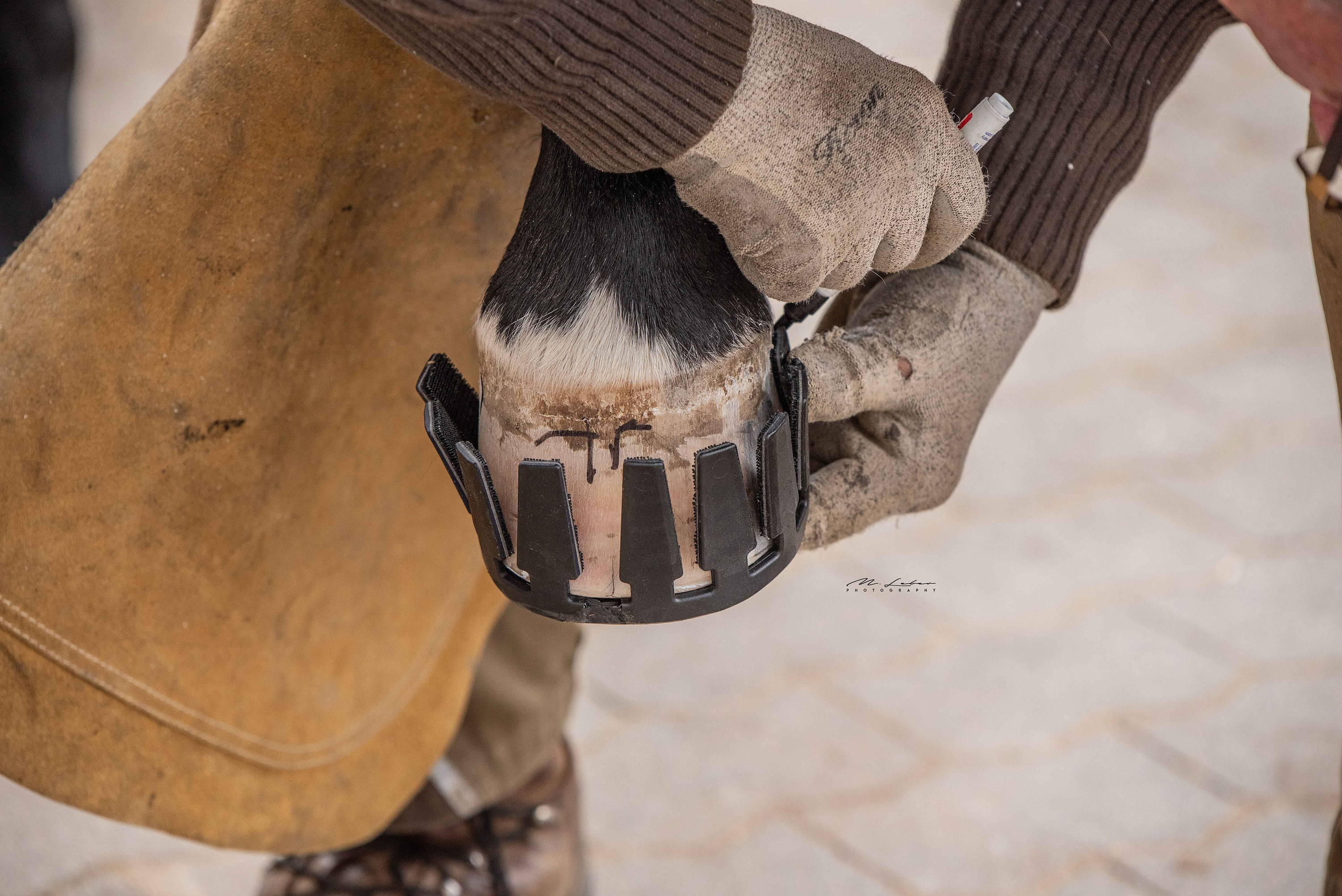 The topic of hooves... a topic that has been following us for a while. It started 3 years ago when I wanted to put iron on the front of the helicopter. I don't know what my farrier at the time did, but it certainly wasn't a good thing because she hasn't been shod since then. As soon as you try to nail the iron on, she freaks out. Then it was time to look for alternatives. hoof boots? Didn't work properly for us. After switching to a hoof orthopedist, it was better at first because Heli's hooves didn't break out anymore, but the sensitivity on stony ground was still there. Then I became aware of the Goodsmith and thought to myself, such an alternative hoof protection in dressage would be perfect for us. I was just faced with the question, which variant do you put on it.. the Velcro variant or the Perma? After consultation with the Goodsmith team, I first decided on the Velcro version. I had this variant for about 4 months with 3 processing intervals. All I can say about the Velcro variant is that it shouldn't be done sloppily. You have to follow Goodsmith's specifications so that the Velcro really lasts 6 weeks. And that's where we had our problems. My (then) hoof orthopedist didn't work properly and so I had to do it myself from time to time and glue the Velcro myself.
After my hoof orthopedist cut Heli way too short in the summer and she didn't want to walk a meter at the front, I decided on the perma variant. Because even if the Velcro version actually worked well, it was not suitable for us for continuous use (with high grass on pasture & extreme romping).And since I couldn't leave them barefoot at first, I had the Perma variant on it for almost 6 weeks, which I was really super satisfied with. What difference do I notice with the Goodsmith? Heli always ran very sensitively, be it off-road or on the way up to the pasture. With the Goodsmith this is no longer the case. She treads much more confidently and no longer looks for the next soft ground. I also notice a big difference in dressage. Especially since Heli also had the Goodsmith on the back. She can sit down better, steps under more and runs off the shoulder more freely.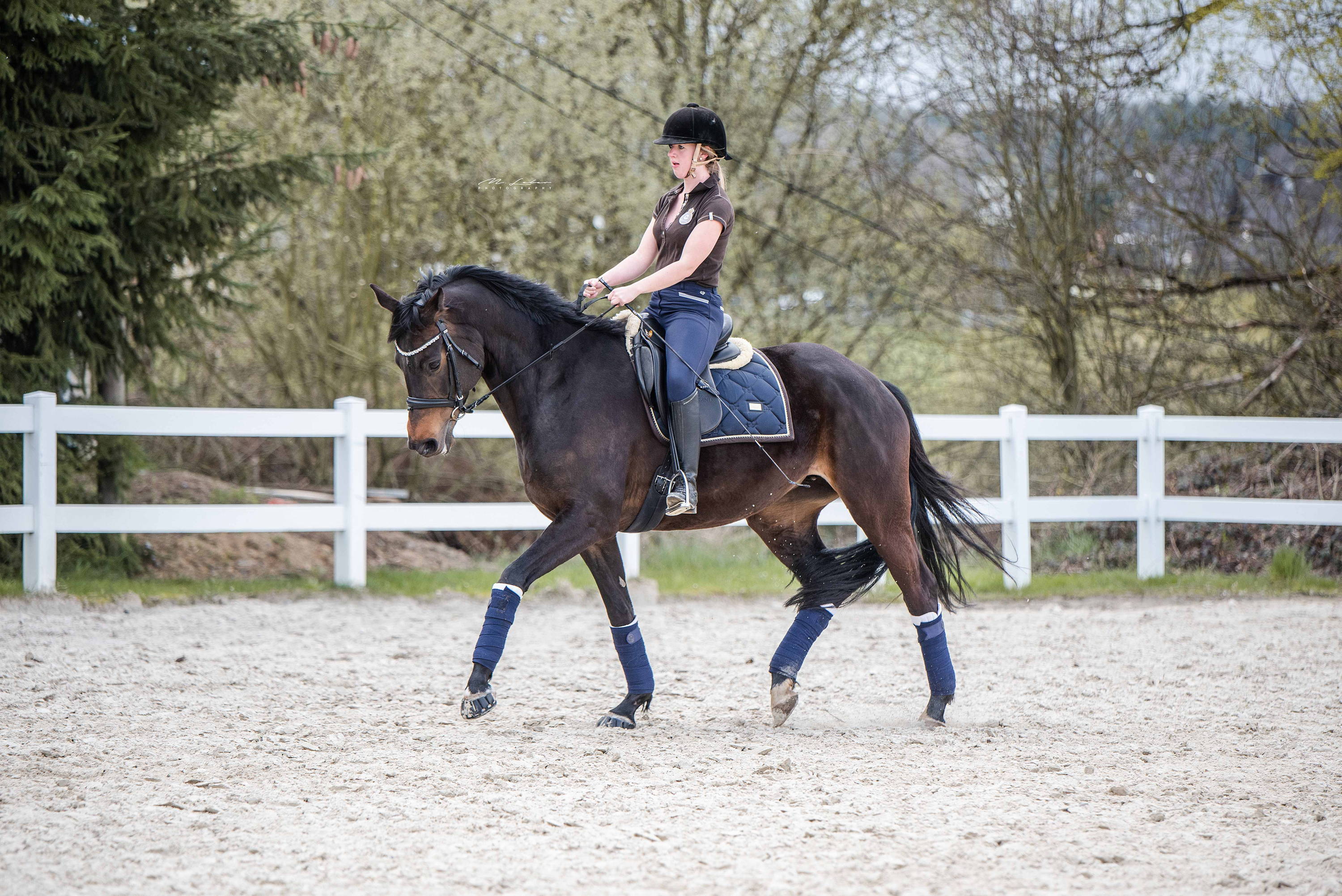 Handling the Goodsmith? Simple or complex? In my opinion, it depends on which version you choose. Neither of the two is really complex, but one still takes a little more time. If you decide on the perma variant, you really don't have to do anything except scrape out the normal hooves. If you decide on the velcro version, you have to keep the velcro clean, of course, and depending on how often you put the Goodsmith on it during the week, it takes a few minutes, but you get used to that over time.
My conclusion at the end: Am I satisfied with the Goodsmith? Yes, definitely. For heli it is the best alternative to the irons. It's also gentler because there are no nails and it's easier for me to use the Goodsmith. Of course it can happen that after a certain time she loses a Goodsmith, just as it can happen that horses kick their shoes. But you can't just nail the irons back on. With the Goodsmith, you're flexible about that. You can put the Goodsmith back on the horse yourself. Whether it's with the Velcro or the Perma version. And I have to say, I find it very useful. In addition, the base plate is very durable. My plates still look great after 4 months of Velcro and 6 weeks of continuous use & I could use them again.
.
---